How Are You Teaching Your Children the Value of a Dollar? | First Volunteer Bank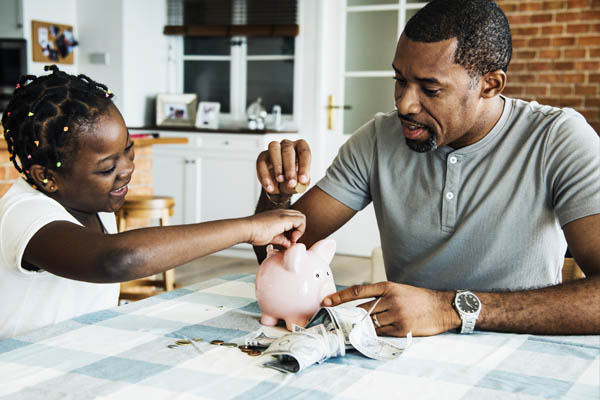 If you don't teach your children, who will?
While schools only go so far in teaching about finances, it is important for parents to take an active role in teaching kids how to manage money—both in words and in action. Our team at First Volunteer Bank wants to offer you some tips on how you can get started teaching your children the value of a dollar.
Let's take a look at some ways you can start teaching your children important money lessons:
Play Pretend
Tell your child to imagine living on his or her own, making $XYZ a month and living in a certain city.
Then, help your child figure out how much he or she can afford. Want cable? Make sure it fits in the budget. Need a smartphone plan? How much is that going to cost?
You want to make sure he or she is putting every little expense down to see what is actually affordable.
This activity is especially important in showing the true cost of living expenses in life, and how the extras, like vacations and eating out, become last on the financial priority list.
Start Saving
Who says you have to wait until your first job out of college to start saving money? Rather, have your child start saving ASAP!
If your child earns an allowance or your teen has a part-time job, open up a savings account and have your child begin contributing. It's important to emphasize that savings is just that—it's intended to be saved, rather than spent.
Practice What You Preach
You want your child to save? Demonstrate the behavior yourself by regularly putting money into various savings accounts. Want your child to be thoughtful about what he or she is buying? Do the same yourself.
Kids are much more likely to build healthy financial habits when they see them with their own eyes. So show them what personal finance looks like.
Is your child ready to have his or her first checking account? Contact First Volunteer Bank team today to learn about our personal checking options to find the right option for your child!